Featured
Boulder Denver New Tech Meetup Report April 1, 2008
With a date like April 1, right there in the title, just how serious can this be. But it wasn't all fun and games.
This was the first meetup that Neli and I attended. Previously, I'd miss yet another meeting and I would poke around on the net looking for a writeup about what happened, what HAPPENS!, at these things - to no avail. And, since we are in the habit of writing show reports, as an official member of the oh-so-well-respected press at CES 2008 for example (don't worry, this will be a wee bit smaller in scope… and content), it seems only natural to do a report about this here meeting, too.
As always, suggestions and corrections are welcome. Encouraged even.
So for all you people who missed it, or who live outside Boulder, or even the U.S., this report will hopefully shed some light on what happened here last night. If anybody has suggestions on how to improve these reports, please post a comment, or send an email [while we are redirecting domain names, use justacoder@earthlink.net or michael@gui.net).
This month, about, oh I don't know how many people, say 237? attended. Let's put it this way, there were about 30 seats left in Wolf Law Building CU Campus Wittemeyer Courtroom (First Floor) [sometimes spelled Wittemyer. This report is teuning into one big old spelling lesson for yours truly]. We heard that last month it was standing room only, so we arrived 10 to 15 minutes early (you all have no IDEA how hard it is for one of us… me… to be early, or even on time, I still have bruises from all the patting on the back I am giving myself).
The meeting ostensibly was to start at 6:00pm, but the presentations did not start until about 6:15. That was because there was food and beer and punch? wine? (some kind of redish fluid in a little plastic cup. No, don't worry, no one was drinking KoolAid at this thing, this crowd teeters on that edge between congratulatory politeness and vocal skepticism).
OK, we;ve been sitting there for half an hour at the presentations start. First thing I think is 'Geez, I should have been standing up and moving around during all this time - because now I am tired of sitting not to mention claustrophobic (well, the seating really doesn't leave much room for the legs of tall people if they aren't sitting up with some kind of adult-like [not me] and alert [not me] posture [just not me]).
OK, the stage is set. We get to hear each presentation, each about 5 minutes long [they seemed to all be pretty good at staying within this constraint] and a question and answer period that was probably about as long.
Before the presentations started, several people stood up and told the audience about positions they had that were open, or that they were looking for work. One guy stood up and described his skill set in broad terms and then said "I'm ______, and I approve this message". That was entertaining, and I apologize to the guy for forgetting his name.Actually it was hard to hear most of these announcements, not being amplified and speaking down towards the podium when we were up towards, in fact in, the balcony. The one I did hear was from Rally Software, because they were up with us, and they are looking for several people.
Most of the presentations consisted mostly of slides and/or slide-like online 'tours', and maybe the display of a few pages on their website [except EarthScape(!)].
FAVRM
Presented by Sean Loving
A new concept called vendor relationship management and our unique new web company and monetization strategy for improving consumer-vendor relationships.
http://favrm.com
This got off to a slow start - they were using Vista running on a laptop to show their slides - and we got to watch Vista run chkdsk on the large screen for a few minutes as it performed a very serious reboot. Since Neli is running Vista on her box, this gave me yet another in a long string of opportunities to 1) make fun of her choice of OS, or 2) empathize with her on her choice of OS, or 3) just grimace. I'll leave it to your imagination which I chose to do this evening.
But the reboot worked and we got to see a few slides and hear Sean talk about their vision.
Essentially, as I understand it, and this is distilled from more of a vision statement than a product demonstration and several Q&A after the 5 minute presentation - they are trying to do Vendor Relationship Management, the inverse of CRM, and put a user-configurable 'privacy firewall' between the user (aka customer, aka poor sad person who is tired of spam and unwanted, overly broad, and uninteresting solicitations) and companies trying to sell her stuff.
Treatment Exchange
Presented by Jonathan Epstein
Web based rehabilitative care delivery, monitoring, communication, and health/wellness platform
http://www.txxchange.com
Jonathan is an experienced presenter, or at least, he was very good at presenting the case for Treatment Exchange. They allow, for a modest monthly subscription, physical therapists to post individualized instructions to their clients for their clients to follow between office visits. Instructions can be presented as video, photos and/or text.
We thought this was a great idea, had lots of room to expand both horizontally and vertically, had minimal liability issues, and one did not have to sweat and squint and furrow their brows to understand the revenue model [even though one of the questioners asked Jonathan to describe this again - he was incredibly polite and repeated the model without blinking. I tell you, this crowd? They would have supported a more clipped and mocking response. All in fun, of course - but they don't suffer fools lightly (which kind of rules me out)]. Hmmmmm… Have to make sure I correctly close my parens and brackets with THIS show report….
Although the barrier to entry is fairly low, technically, their first mover advantage could translate into something very, very big.
As always, please visit their website. They are looking for several types of people to join their company.
Flatirons United Capital
Presented by Jason Mendelson, Robert Reich
New Private Equity Fund Located in Boulder
Flatirons United Capital has raised $500M to fund startups in and around Boulder. They are looking to create a coalition of online properties that will go up directly against Google et. al.. My memory is failing, but I believe they are planning on buying outright any startup that manages to stay afloat for more than 6 months.
For people who are interested, please send them a prospectus at their gmail address…. April Fools! At this point the presenters cracked up and, after realizing this was all a joke, the crowd expressed their extreme disappointment. Lots of hissing and booing. Several people started crying and two fainted and the University Medical Team were summoned and wheeled them out on gurneys. Several more threw their laptops up in the air like this was a commencement - not in joy but frustration. Luckily no one suffered any injuries.
After 30 seconds or so, things calmed down and the next presentation started.
RDFAlchemy
Presented by Philip Cooper
State of the art of XBRL apps and how that has extended into the use of RDF Triple-Stores
http://www.openvest.com
This was a very quick technical exploration of the mysterious and sparsely traveled history and rationale behind XRBL and some of the advantages of storing it using RDF in a database. Essentially, XRBL appears to be a taxonomy to describe the semantics of financial data, and RDF a very simple format for the storage and management of data using this rather complex and verbose, open-ended taxonomy.
There is more information and open-source tools for various aspects of this approach on their website. I haven't made it there myself because, well, personally, I think of large financial systems as a door one goes in, but never comes out.
SurveyGizmo
Presented by Derek Scruggs
Overview of online survey software
http://www.surveygizmo.com
This was a presentation about another practical online application. Derek gave a nice, quick, and information rich overview of their online survey website. They strive to distance themselves from their competition, and raise the barrier to entry, by offering several features that would take some commitment of resources to match: dedicated 'hand-holding' services for special clients, encryption for security [presumably of the survey questions as well as the results], several AJAX widgets [don't know about you all, but I saw several that we might end up 'borrowing'], integration with salesforce, email lists, and other data/people sources, is screen reader friendly, and the surveys are brandable [which seems to me to not be not all that hard for their competition to swing - but then again I am often a front-end guy].
The point is that survey brandability seems to me like a good differentiator, but not a good barrier to competition. But that the other features, in total, along with their professional, 'we take this seriously' approach, are.
Yes, by all means, visit their website.
Earthscape
Presented by Tom Churchill
Demoing a new geo-browser "Earthscape
http://www.churchillnavigation.com/
Tom gave a live demo of Earthscape. I never know when to apply polycaps to names, i.e. capitalize the second word, or not. In this case, apparently not [Javascript is apparently spelled JavaScript, according to the FireFox spell checker, and FireFox, it tells me, is actually Firefox.]
I know, I am keeping you in suspense. This was a really impressive demo. I do not know what kind of graphics card they had in that laptop - but, having attended many Siggraph conferences in the past, back in the early to mid 90s when the Silicon Graphics Reality Engine was THE cool (and massive) rendering hardware, used for military-grade flight simulators, this…. well, this killed all those demos.
Neli uses Google Earth, I don't. And on my machine, with a very fast graphics card [to push all those pixels to the 30″ DELL], maybe Google Earth screams too. But the interactivity, the variety, the accessibility, the multiplicity of data feeds for overlaying information on the planet was very entertaining.
Yeah, Tom has good demo skills, or at least knows how to zoom around the planet using their application. Can Google add all these features into Google Earth? Well, they are Google. But speaking as a GUI guy, Tom and his developers have a good deal of skill and before Google tries to duplicate this they should just bring churchillnavigation in-house for, oh, several 10s of millions of dollars, say. :-)
You can visit their website but don't expect much to be there, cause there ain't.
OK. That's about it. This took about two hours, ending at 8:00pm. We hung out for a few minutes, then decided to take off. Even though there was a good mix of students, business types, young and old coder types, about 10% of which were women, we didn't know anybody. That makes the show report easier to write, but makes socializing a little harder.
Again, if anybody has suggestions on how to improve these reports, please let us know.
Hopefully we will all make it to the next meetup in early May. See ya then!
How to get there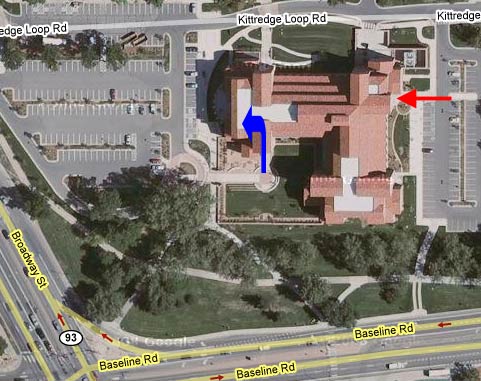 The building is on the C.U. campus at 28th and Baseline and Broadway, it kind of takes up that part of the campus. The road on the left there is Broadway, on the bottom is Baseline, and off to the right is 28th.
The blue arrow shows the most direct route, just go in the South doors and make an immediate left (if you want food and drink) or your second left into the courtroom itself.
We went in the east (red arrow) entrance, because one of the maps highlighted it for some reason that now seems quite mysterious. This leads into the basement, and one must walk up the stairs and traverse westward to the other side of the building, and at the end you will hear the hustle and bustle of lots of people milling about. You have now reached the location where you want to be.